January Jones was my wearing my favorite dress of the night, because of how trendy/futuristic the bodice was but how the skirt train was just so elegant and looked amazing on her as she walked. This dress was Atelier Versace.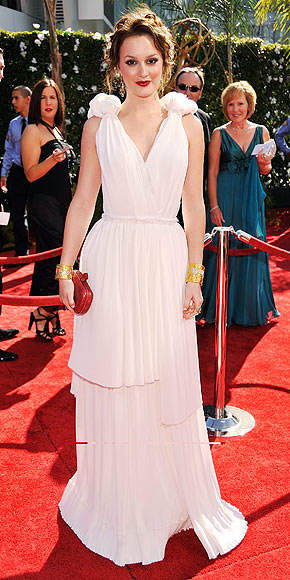 Actually, I think I just changed my mind for the 15th time on which dress is my favorite. Leighton Meester, one of my all time favorite celebrities, I nearly die every time I meet her (she films Gossip Girl a lot near where I used to go to school). This dress looks so great on her! The Pleating is fabulous, the neckline is such a good length for her (unlike some other Gossip Girl star who took the 'plunge' way to far) and the different proportions and dark makeup bring just the right amount of edge to this Bottega Veneta dress to balance out the Blair Waldorf (who's closet I am also a fan of) and bring us that Leighton style we all love!
*Overall though, I must say I was rather disapointed with the night. The night seemed to drag on with Neil Patrick Harris as host and very few people willing to take fashion risks.