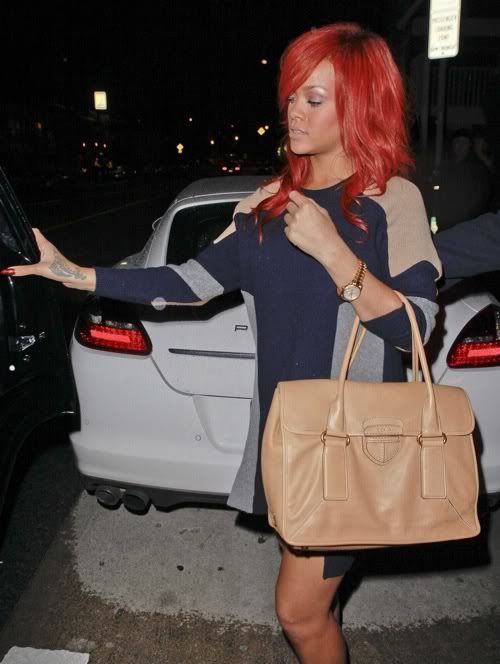 Rihanna in Pre-Fall Celine color blocked sweater dress and loafers, as well as a 'City' Prada bag.
Managing to do so, by pairing it with pieces both scholarly and classic, Rihanna stepped out for a casual night out. Never one to sacrifice a bit of individuality, she matched the look with fiery red nails that would make any brooklyn girl jealous.
While I have never been a huge an of Rihanna, I am a fan of her style as of late. She hadn't hit it big until she was at most 17 or 18 (she is now 23,) but she has gone through some major style phases throughout her time in the public's eye. I don't know if its just me but it seems her current look is always dictated by her hair.
First came her native island girl Bohemian look. Composed of girly dresses in bright colors (before they were cool) it complimented her long, loose waves. Then came an edgier, cropped cut. Switching out waist length hair for bellybutton skimming necklines in sultry colors like black and plum. Finally comes her current phase, bright red hair. Originally a wig, now a permanent 'do.
Thanks to the help of stylist Ursula Stephens, she has settled into her own style niche. She no longer dresses for comfort, or as dangerously close to a wardrobe malfunction. While she occasionally throws in a few looks I'm not too wild about (for example: here and here,) she has certainly stepped up her game in terms of following fashion rather than just wearing the clothes. I am actually starting to fancy raiding her closet.